Delintz Dryer Vent Cleaning Service specializes in cleaning commercial and residential dryer vents to improve ventilation. Without proper ventilation your clothes won't dry all the way and your dryer may catch fire.
Our technicians are licensed and insured. We are skilled at cleaning vents on a variety of manufacturers including Kenmore, GE, Whirlpool, Maytag and many more. We work with clients who own gas, electric and stackable dryers. No matter what type of dryer you own, dryer lint removal is essential for optimal dryer performance, safety and longevity of your machine(s.)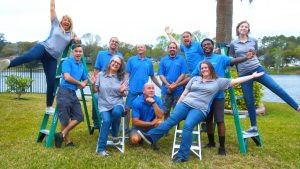 Many of our commercial clients need dryer vent cleaning or dryer pipe cleaning for their dryers in laundry mats, on college campuses, in hotels, condominium and apartment complexes. We are available to clean a single dryer vent up to an entire fleet of vents.
All Delintz dryer vent technicians are equipped with commercial grade cleaning equipment to clean the toughest of lint clogged vents! Improving air flow in your dryer vent will prevent a dryer fire and reduce your energy expense in the long run.
When a dryer vent is plugged with lint the air flow is greatly restricted. As your dryer continues to work and heat up there is no-where for the heat and moisture to go, this restriction of air flow can result in a dryer fire.
Dryer vent cleaning is not expensive. Cleaning your vents once a year will save you money on your energy bills and reduce the threat of a devastating dryer fire. Our team offers the best dryer vent cleaning service in the area. We will improve the air flow in your dryer vent so your clothes will dry faster and your dryer will perform better.
For more information on our dryer vent cleaning service, please contact us.  We look forward to helping your dryer be lint free!